Recent review: we had a large painting job and bid the project to multiple companies. The painting company was very competitive on price. Though their bid was not the absolute lowest, their team gave us the most confidence they would deliver the best product for the best price. The project was split into two phases. Phase i was to refinish and paint our kitchen cabinets. The original color was a yellowish brown and the painting company crew turned them white in three days. The pictures say it all.


Phase ii was to repair our walls and paint our entire town home. And, when i say entire i mean it. The team painted all walls, ceilings, trim, built-in cabinetry, inside closets, stair safety rails any anything else you can imagine. It was a big job – to say the least. If you are like us, you are looking for a painter/contractor who can deliver the best combination of price, value and service. Regarding price, they are competitive. You'll likely find a less expensive alternative and if this is your #1 focus, do it. However, on the value side, the painting company will be challenging to beat. The final product they delivered was impressive and we seriously don't recognize our own home it looks so good. Finally, the painting company really differentiated itself on the service side. The four people i worked with the most (jason in sales, lisa in billing, connor in production management and javier the painting foreman) went above and beyond in making the process seamless. The painting crew (let by javier) was punctual, professional, conscientious and really, really good painters. The team even stayed really late on the last night to ensure the job was done right by us. It was evident they cared more about our overall satisfaction than their saturday night. Do your homework and call a few companies to bid the job. However, if you value price, value and service i bet you'll pick the painting company in the end.
Kitchen Cabinet Painters Cost Guide
Our job is to make your kitchen look like new!  we specialize in wood cabinet refinishing. Cabinet make-overs are a very popular and cost effective way to increase the value and appearance of your home. While other kitchen cabinet painters take weeks to work on a job, we focus on one job – –  yours – –  until its complete. We'd love a chance to make you our next satisfied client.

Imagine your kitchen immaculately updated with modern colors that brighten up your space. You can have the benefits from a complete makeover of your kitchen, for a cozy, inspiring and relaxed feeling at a cost-effective rate by securing the services of cardinal pro painters, experienced experts who specialize in modern and stylish kitchen cabinet painting services in charlotte nc.
Do you want to make your kitchen "pinterest-ready", but budgetary
and time expectations are holding you back? fresh coat painters of flower
mound is here to make painting your kitchen cabinets is a quick and cost-effective
alternative that will brighten up your kitchen. If your cabinets are starting to look outdated, worn-down or simply tattered,.
Our professional house painters get the finished look you desire for your space, and can do so on multiple types of surfaces. Updating your kitchen cabinets with a coat of paint is a great way to make your kitchen look new. With new paint and a smooth finish, painting your kitchen cabinets can erase years of wear and increase the value of your home and can cost thousands less than installing new cabinets.
Eagle painting is your specialty contractor in the Marietta area for kitchen cabinet painting, molding, walls, and ceilings. This distinctive service allows you to craft a whole new look in your kitchen for a fraction of the cost of replacing your cabinets. Cabinet painting is challenging, highly-skilled work that many painters shy away from or don't have the experience to perform professionally. A lot can go wrong if painting kitchen cabinets isn't done correctly.
We offer custom cabinet refinishing services
Certapro painters® provides high quality cabinet painting services
many of certapro painters®'s locally owned and operated teams offer cabinet refinishing and painting services. Our skilled craftsmen can help you fix your home or commercial building with high-quality repair.

Whether you are looking to reface your current cabinets, fix your cabinet doors, or install brand new cabinets and apply a fresh new coat of paint, cabinet coatings of america offers the highest quality craftsmanship and professionalism for cabinet refacing and cabinet refinishing services in phoenix. We get the job done right the first time, every time. Don't waste your time or trust your kitchen cabinets with an inexperienced handyman. Let cabinet coatings of america transform your kitchen cabinets into the hand finished chiffonier you've always wanted.
Looking for a trusted company to paint your cabinets? at paintrite pros we offer a wide range of cabinet painting and finishing services , including repainting existing cabinets , painting new but unfinished cabinets, removing and reconnecting the hardware, installing new door stoppers, and offering spray and hand brush options for maximum customization possibilities. We even have color consultation available with design experts in case you are just not sure what direction you want to go. And once our work is completed, we clean up the area and leave you with nothing to do but sit back and enjoy your painted cabinets. We take the time to assure a perfect job every time…guaranteed!.
Our cabinet painters use the best cabinet painting and cabinet refinishing products and processes. The cabinet painters we send to your home will be the very best at their craft. Many contractors offer painting services but we're the only company to choose for cabinet painting and cabinet refinishing. Your average painting contractor in jacksonville will struggle to deliver the efficiency and factory like finish that we do.
Experience matters, even when it comes to painting and refinishing your cabinets. Different finishes require different types of prep-work and some paints work better on certain types of wood. Knowing what works and what doesn't allows your contractor to turn your boring kitchen into a space you'll love. Look for a company that's been in business for at least a few years. The longer they've been in business, the happier their customers are. Businesses don't last if their customers are unhappy with their services!.
The cabinet restoration company offers expert craftsmanship for new custom cabinetry , cabinet refacing , cabinet refinishing and design services throughout the baltimore and washington dc metro areas. Family owned and operated, the cabinet restoration company takes pride in offering  a great value and high quality wood cabinetry. Available for consultation throughout the entire process, from design conception to completion, meticulous attention to detail and focus on total customer satisfaction is our top priority.
Are your cabinets looking a little tired or dated? is it time for a new color, or to bring fresh personality and life to your kitchen?
our cabinet refinishing services put you in the driver's seat. We'll keep your vision in mind as we create a transformation that offers all the visual impact of a remodel — without the added expense and hassle.
Tired of Your Outdated Kitchen Cabinets?
Photo by nick smith/gap interiors
if you've noticed the cost of new appliances, countertops, and cabinets, it's no surprise that renovating a kitchen is one of the most expensive remodeling projects. While few homeowners find ways to boost the look of a dated refrigerator or tired granite, transforming a kitchen by freshening the cabinets that make up most of the room's visual space is entirely within reach. But there's more to the job than buying a gallon of your favorite color.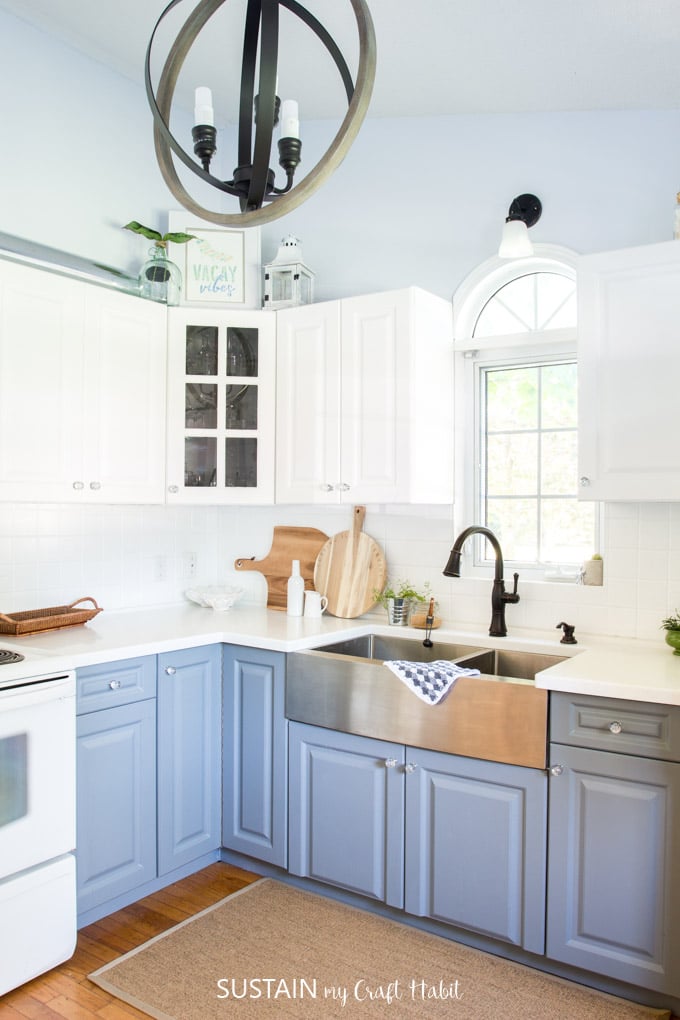 The most popular renovation project for a homeowner to tackle is their kitchen. Whether your cabinets are outdated, discolored, peeling, or otherwise in need of refreshing, we have smart, affordable solutions that make your kitchen look clean, modern, and new. Now you can make your kitchen your own without a massive remodeling budget! with kitchen cabinet refinishing or redooring, we improve the attractiveness of your cabinetry at a fraction of the cost of a completely new cabinet system.
The spruce / david schiff
there's no easier or more cost-effective way to update your kitchen's style than by giving the cabinets a fresh coat of paint. Here we'll renew a tired old oak kitchen cabinet by painting it in a contemporary soft gray. After the paint dries, you can also install new knobs to go with the new color.
Style is everything these days! kitchen cabinet refinishing takes the expertise and attention to detail that precision painting is known for. We will refinish cabinets to compliment the style of your existing kitchen or create that brand new look you've been wanting. Is your kitchen outdated? refinishing kitchen cabinets is the best way to revive good, solid cabinets while updating the look and feel of your kitchen. Get that "designer-look" at a price you can afford. Call us. It's the perfect opportunity for you to enhance the heart of your home with precision painting.
Don't replace them, just reface them! tired of looking at those old brown cabinets? have they lost their luster and making your kitchen look dreary? though we can install new cabinets for you, you should probably consider painting or refinishing them first, which will save you a ton of money.
At a new leaf painting, we can help you achieve just the style you are looking for in a custom, creative way. Whether you would like to glaze your cabinetry, paint them an antiqued, chic color, or wrap them in a bright, ultra-modern style, kitchen cabinet painting and refinishing takes the expertise and attention to detail that a new leaf painting is known for. We will paint your kitchen cabinets to compliment the style of your existing kitchen or create that brand new look you've been wanting. Is your kitchen outdated? refinishing kitchen cabinets is the best way to revive good, solid cabinets while updating the look and feel of your kitchen. Get that "designer look" at a price you can afford. Call us. It's the perfect opportunity for you to enhance the heart of your home with a new leaf painting.
Before / after
do your outdated kitchen cabinets need a face-lift but the budget isn't there for a remodel? what can be done to make your kitchen look modern? professionally refinished kitchen cabinets are the most economical and fastest way to transform an outdated kitchen into a modern masterpiece. You are ready for a change, culver's painting can transform your old wooden cabinets by painting or re-staining to a color of your choice.
Save Money and Transform Your Kitchen
Want to save thousands of dollars on your kitchen remodel? then let us paint your existing cabinets. If you like the layout of your kitchen, we can transform your existing cabinets into something updated and amazing. With a little paint and glaze we can update your kitchen cabinets without you having to replace them.
Painting your kitchen cabinets is a fraction of the cost. But when people are thinking of remodeling a kitchen, contractors and other resources usually recommended to cut out painting. Their thought is that this is where you can save money and cut costs. But, this old house says, "transforming a kitchen by refreshing the cabinets that make up most of the room's visual space is entirely within reach. " we would even go as far as to say that it's more valuable.
Suzanne childress
painting kitchen cabinets can be tiring and you can easily hire a pro to do the job for you, but if you're up for the challenge and want to save the money, do it yourself. The best way to paint kitchen cabinets is with a paintbrush and small roller. Spray painting is also an option if you want the process to move more quickly, but it can be tricky.
Getting your cabinets painted can save you lots of money and it can give your kitchen the face lift that it needs to look new again. The problem is that painting your cabinets can take a great deal of time, especially when you consider the amount of preparation time it takes to get a professional result. Although cabinet painting can help disguise your cabinets' imperfections, it in order to get the best results you need to sand your cabinets before you paint them. This will help the paint to bond with your cabinets so your results will be more durable and last you a lot longer. Also, a professional spayed application is ideal so it looks like a factory finish. There are special cabinet paints that are not commonly found and that only professional cabinet painters in jacksonville fl may have access to. You don't have to put in all of that time and energy to do it yourself, turn to the professionals at straight edge painting! professionally painted cabinets can make your overly worn kitchen look like new again. You will be surprised at what a difference it can make! if you want to the best results, it is important that you trust your cabinet painting to the best. At straight edge painting we offer a full range of home painting services in jacksonville, fl; including cabinet painting. We use the latest tools and techniques to give you an outstanding result that you will love for years to come. Contact us today for your free cabinet painting estimate.
Do you want to get rid of those dark kitchen cabinets that seem to be sucking all the light out of the room but you don't feel like spending a lot of money?
how about spending 1/3 of the price of even the cheapest set of kitchen cabinets and transform your kitchen into the 21st century with paint!.
Is it time to refinish your kitchen cabinets?
kitchen remodeling is often the most expensive home improvement project. The cabinets usually cover the most visual real estate in the kitchen. New cabinets are nice but in many cases it can be a waste of money. There are other options that get the same result. Kitchen cabinet refinishing is one option that homeowners should investigate. Refinishing can be done with a solid paint color or stain. Your existing cabinetry can be transformed to a totally different color of your choice. The new finish is indistinguishable from the finish of that in a factory.
A. Yes!  just check out our excellent google rating and reviews from both austin and san antonio customers who are thrilled with their updated kitchens. (in addition to google, check our houzz and angie's list ratings for insightful reviews. )  cabinet painting is one of the best uses of your decorating dollar. Your cabinets are the largest visual area in your kitchen, and refinishing them is much easier and budget-friendly than either replacing or refacing them. Plus you won't have the hassle and expense of tearing out your counters or reinstalling your fixtures. Our professional cabinet painting saves you time and money. You will love your kitchen again!.
Want to see more cabinet refinishing projects?
Kitchen remodeling projects have a tendency to get very expensive very quickly. They also tend to take a bit longer than expected, which can be incredibly inconvenient. Cabinet painting and refinishing is an alternative way to give your kitchen a completely new look without all the hassle. There are many benefits to choosing cabinet painting over a full-scale renovation:.
Hopefully after reading a brief overview of the process you understand that it is not as simple as painting the walls in your home. When trying to budget for a cabinet refinishing price it is wise to compare it to completely replacing the cabinets with new. Every project is different just as every kitchen is different. With that being said, most projects are between $3,000 and $6,000. A decent starting point is to count the number of doors and the number of drawers and multiply that by $100 and $125. This should give a decent range to expect.
Most cabinet painting or refinishing projects are completed in 3 to 5 days. We make certain to leave your home in a working, functioning state when we complete each day's work. 360° painting ann arbor partners with sherwin williams and benjamin moore to use the most advanced and quality products for your cabinet painting/refinishing project.
Refinishing kitchen cabinets is growing in popularity for many reasons. The cost of replacing brand new cabinets is soaring as the price of wood soars. Over time, paint has made leaps and bounds in performance allowing for painting cabinets to not only be a viable solution but also deliver a brand new appearance. H-painting is helping customers achieve the results of painted kitchen cabinets at a fraction of the cost of new cabinets. The "average**" cost range to have cabinets painted for the first time is between $2600-$4,300. With a majority of "average kitchen" projects coming in closer to $2,900-$3600.
At good painter llc, we concentrate our work on cabinet painting and refinishing right now. We are highly committed to ensuring customer satisfaction and providing quality painting services. And we are always patient to listen to your challenges as well as offering you customized solutions that will satisfy your painting needs. Our aim is to use world-class technologies and eco-friendly paints to enhance your interiors and exteriors. We also provide you with a team of professionals who will make your project shine. We are available for projects throughout howard county, frederick county, montgomery county, prince george county, anne arundel county, carroll county, baltimore county and baltimore city.
Ag williams painting has been around for 113 years. We have a dedicated crew who has been educated in the painting industry, and a dedicated team who are ready to tackle your kitchen cabinets. Whether we are refinishing your cabinets , helping you with interior painting projects , or even helping you with the design and color process , you will find that our longevity as painters sets us apart. Our quality speaks for itself. Schedule your estimate today.
Project location: acworth, ga 30102
date: 10/2019
refinishing type: restore existing color
cabinet material: stained wood
desired completion date: timing is flexible
historical work: no
covered by insurance: no
property owner: yes
comment: i want to keep the same stain color and only need part of the cabinets refinished. Project location: acworth, ga 30101
date: 09/2019
desired completion date: timing is flexible.
Value Leader In Acworth Cabinet Painting
Eagle painting & restoration, inc has been refinishing (painting or staining) cabinets since 2015. Make your kitchen and/or bathroom look new again with newly painted or freshly stained cabinets, for a fraction of the cost of new cabinets or refacing your cabinets. The value leader in kitchen
our cabinet refinishing process is the least intrusive way to totally give your kitchen that brand new look and feel you have been waiting for and it takes as little as 5 days. Learn more.
Cabinet painters kitchen cabinet spray painter cabinet refinishing – spring promotion for march save an additional $100 off the pricing listed below when you start your project in march. Customize your quote for extra savings – see special promo pricing estimates below plus my written guarantee for the durability of my work. Please contact me directly at 289 654 5445 by phone or text message or email address, [email protected] Ca.
Buying new kitchen cabinets can cost $20,000! traditional cabinet refacing is about $7,500 and super messy!
refinishing them with a professional paint job is a fraction of the cost. Your kitchen cabinetry is one of the first things you and your guests see.
If you're looking to get an accurate price immediately, you can text us the number of doors and the number of drawers with pictures and we can get you an accurate price immediately. If you have a lazy susan that would count as 2 doors and if you have doors that are 36″ or longer that would count as 2 doors as well. It's a strong factor that the prep work in refinishing your cabinets is the most vital factor of them all. When you paint any surfaces for kitchen cabinets you want to make sure your preparation is on point. If not you're guaranteed a failure within months if not weeks. Is very important that we continue as a company that takes pride in all preparation work. It's what keeps us strong and makes our customers happy. Check out the before & after video of a recently just finished job and the preparation that goes into refinishing kitchen cabinets the right way.
While estimates for brand-new custom cabinets start at $12,000, this diy refinishing project cost $200 in supplies. If tackling a project yourself, it's best to allow two full weekends to complete. Homeowners interested in hiring a cabinet refinishing professional (for kitchens 200-square-feet or smaller) should expect to spend between $900 and $3,000 for labor and transportation costs.
At bennett brothers cabinet painting, located in arizona, you can find the best quality and service for your cabinet painting, restoration, and refinishing needs for your kitchen or bathroom cabinets. We have many years of experience helping homeowners get the look they need for their homes, and you can feel confident that we will bring that same expertise to your home as well. We feel there is no project is too difficult, and you can count on us to make sure that we will treat your project as if it were our own. As a family owned business we're committed to treating you just like family.
Painting or refinishing kitchen cabinets,
either you choose painting or refinishing,doors and drawers they will need to be removed and taken to our work shop to start repairing and prepping them. Cleaning, sanding and patching
dents and scratches will be repaired. They will be primed and sanded to get the smooth surface we need before we apply[spray painting] the top finish coat color. Once the shop part of the process is complete, we will then contact you to schedule the "in-home" part of the process. You must empty out your cabinets and clear off the countertops. Once you are ready, we come in and cover the floor and tape off everything. Then we seal off our work space as to keep all dust from the other parts of your home. We repeat the process used for the doors on the cabinets frame. We let it dry and we come back the final day to install the doors,drawers and the hardware. Your kitchen cabinets have factory-quality work as if you just bought it and better,plus 3 years warranty for chipping. Whatever you decide. Painting or refinishing your kitchen cabinets will not look painted because we do factory finish spray painting. We do your project with our team,we do not subcontract.